Art/Craft Activities
Handprint Turkeys
Paint child's palm and thumb brown and each finger a different color. When dry, paint the tip of the index finger red and put on thumbprint for the turkey's waddle. Use orange marker to make beak and feet and black marker for eyes. Add this poem beneath the turkey handprint:
This isn't just a turkey,
As anyone can see.
I made it with my little hand
Which is a part of me.
It comes with lots of love
Especially to say:
I hope you have a very
Happy Thanksgiving Day!
I have added some new Turkey Handprint Poem Printables for this craft at A to Z Teacher Stuff.  You can choose from a few styles.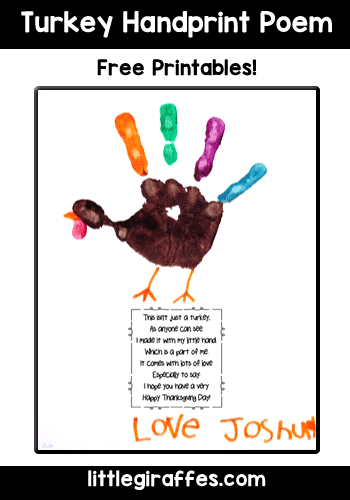 Instant Download from A to Z's Store:
Turkey Cut and Paste Art Pattern
By Dianne Tansey
Family Gift Bag
Cut an eight inch circle of muslin. Have children use fabric crayons or permanent markers to decorate the circle. Use saran wrap to package a small amount of popcorn kernels and wrap into a ball shape. Fold the muslin circle up around the popcorn and tie with ribbon or yarn. Tie a small tag to the ribbon printed with the following verse:
This is a tiny little sack.
Inside you'll find a popcorn snack.
Outside there is a bit of art
To say you're always in my heart.
Coffee Filter Turkey
Use eyedroppers to drop colored water (from food coloring) on to a coffee filter. While this filter dries, glue colored feathers along the upper rim of a second filter. Glue the colored filter over the plain filter, sandwiching the ends of the feathers between. Glue on a circular head, wiggle eyes, waddle, beak and feet cutouts.
Turkey Napkin Holder
Use brown construction paper for a body, red for the head, and orange for the legs and beak. Cut out the pieces. Glue the bottom of the head piece to the body piece. Fold the beak in half and glue one side to the head. Glue on wiggly eyes. Attach the legs to the back of the bottom of the body. Glue this note to the front of the body section after creasing the wings forward.
Turkey on the table.
What do you say?
Yummy, yummy, yummy,
Yummy all day.
Turkey in my tummy.
What do you say?
I ate too much
On Thanksgiving Day!
Cut a toilet paper roll in half and hot glue it to the back of the body section to enable the turkey to stand up. Buy colorful napkins and stuff the napkin (fan it somewhat) into the toilet paper roll to serve as the turkey's feathers.
OK, so the napkin holder below is pathetic, but he has been living in a box in my basement for years. Pretend he has 2 eyes, a poem on his tummy and a colorful napkin sticking up behind his head. At least you get a visual–kind of!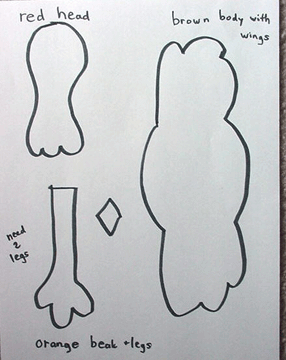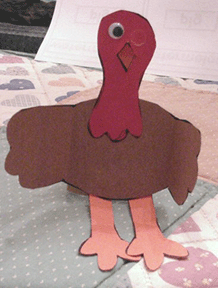 Family Turkey Homework
I send home a turkey blackline and ask the students' families to help their child decorate the turkey. It's always amazing how creative they are, using beads, paint, cereal, glitter paint, pasta, colored popsicle sticks, silk leaves, pompoms, feathers and fun foam shapes. Last year I even had a football player turkey!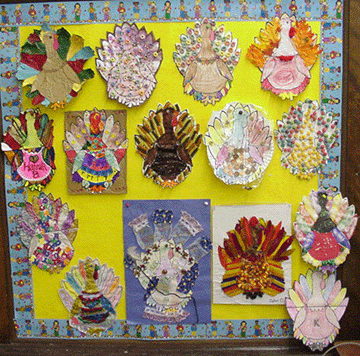 I Am Thankful Quilt
For quilted squares, children glue precut pieces (1 and one-fourth inches square) over a quilt pattern. A decorated die-cut turkey was glued in the center. On the other square, the children tell what they are thankful for and draw a picture of it.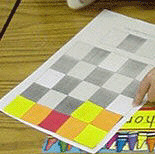 Turkey Hat
Trace two of the turkey bodies. Draw on a wattle, beak and eye. Cut 4 colorful feather strips 2 inches by 12 inches. Staple turkey together at heand and back. Fold feathers and glue on each side of the turkey's back.
Don't want to freehand the turkey pattern? I've created a printable pattern for you at A to Z Teacher Stuff: Turkey Hat Printable Body Pattern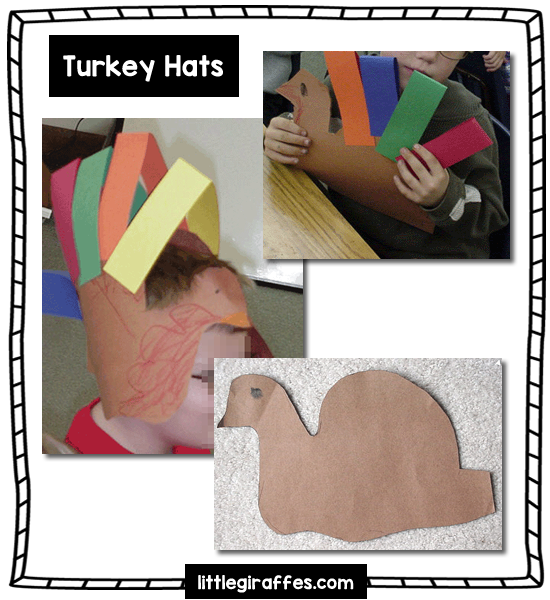 Turkey Headband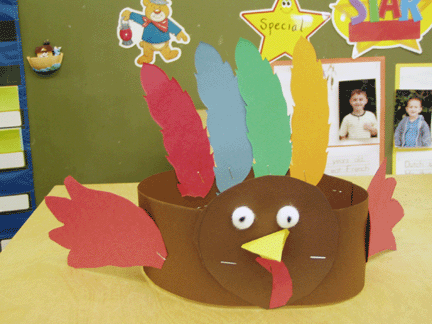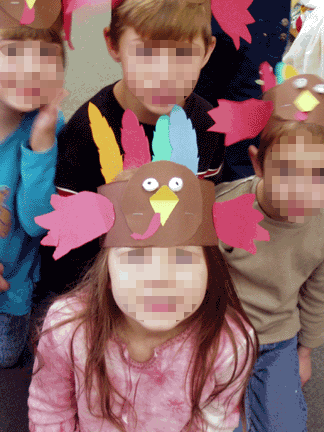 Watercolor Turkeys
(from Linda)
Children watercolor the turkey bodies. Glue a photo of each child on for the turkey face.
Paper Plate Turkey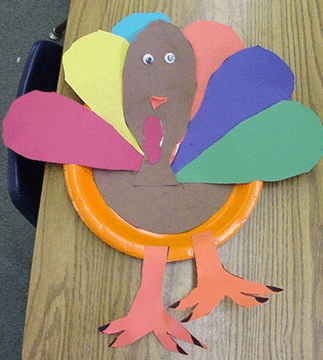 Block Turkey
(from Linda)
Children paint a wood block (a 2×4 cut into approximately 8″ lengths) brown. Silk flower leaves are hot glued on for the tail feathers. Washers painted white are glued on for eyes. Felt is used for the beak and wattle. Paint wooden spools brown and slip them on to a  2″ wide strip of fabric (approximately 24″ long). Tie a knot at each end. Finally, a knot is tied in the middle of the strip and it is hot glued to the bottom of the block for the turkey's legs.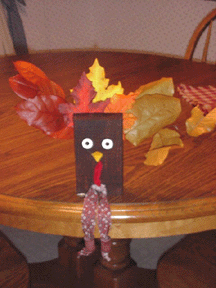 Wooden Turkey
These two pieces are cut and then painted. They fit together so the turkey is free-standing.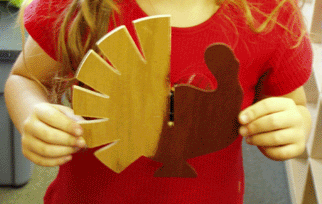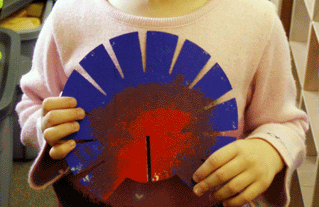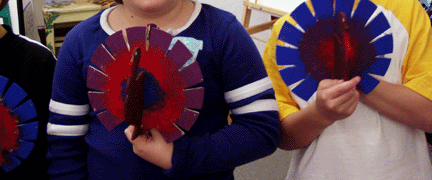 Hand and Footprint Turkey
Trace both feet on brown and glue one over the other. Trace hand 6 to 8 times on red, yellow and orange construction paper. Draw orange feet, yellow beak and red wattle. Glue on wiggly eyes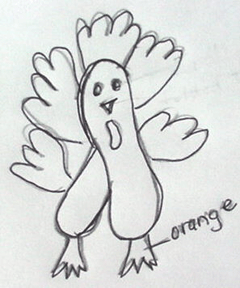 Turkey Dressing
This is a family project to disguise a turkey so he won't be eaten at Thanksgiving. Begin by sending home a turkey outline without feathers. The turkey at this link would be a good one to use, once you cut off the feathers:
http://teachers.net/gazette/NOV02/images/turkey.pdf
The parent letter below combines ideas contributed by Sharon (FL) and Cathye (TX).
Turkey Dressing
(Holiday Family Project)
It's time to have fun creating a very unusual bird. As a family, disguise Tom Turkey so that he won't be eaten for Thanksgiving! You may choose to dress your turkey as a doctor, an astronaut, a farmer, a cheerleader, a ballerina, a clown, etc… Be creative and use any materials you have at home. Everyone gets to help.
Cut out the enclosed turkey and mount him on cardboard or heavy paper. Make it very original and have fun!
Please, help us save these turkeys! The turkey homework is due on Tuesday, November 18, but you may send it in earlier. When your Tom Turkey is incognito, he can "hide out" in our classroom!
Happy Turkey Dressing!!!
This poem can be used when you display the turkeys on the bulletin board:
My name is Tom Turkey
And I'm afraid as I can be.
I'm wearing my disguise
So you won't catch me.