Literature relating to the color "red":
Big Red Apple
Big Red Barn ~ Margaret Wise Brown
Big Bird's Red Book
Clifford, the Big Red Dog ~ Norman Bridwell
Hello, Red Fox ~ Eric Carle
Is It Red? Is It Yellow? Is It Blue? ~Tana Hoban
The Little Mouse, the Red Ripe Strawberry and the Big Hungry Bear
The Little Red Hen ~ Paul Galdone
Little Red Riding Hood
Mary Wore Her Red Dress and Henry Wore His Green Sneakers ~ Merle Peek
The Red Ball ~ Joanna Yardley
Red Balloon ~ Alber Lamorisse
Red Is Best ~ Kathy Stinson
Red Leaf, Yellow Leaf ~ Lois Ehlert
Ten Red Apples ~ Pat Hutchins
Who Said Red?
Red Song
(tune of Jingle Bells)
R E D, R E D.
Red, red, red, red, red.
Apples, cherries and strawberries.
All are shades of red.
Clifford ABC Chant
A B CDE
I can't find Clifford. Where can he be?
F G HIJ
Maybe the dog catcher took him away.
K L MNO
I wonder where Clifford might go.
P Q RST
Isn't there anyone who'll help me?
U V WXY
I think I'll sit down here and cry.
Z Z ZZZ
Look, he's sleeping under the tree!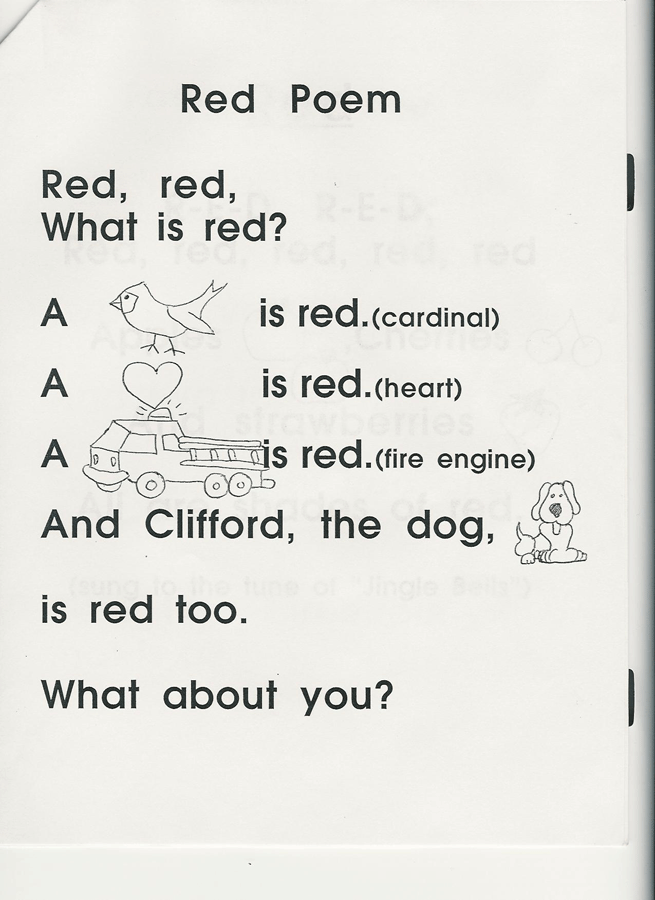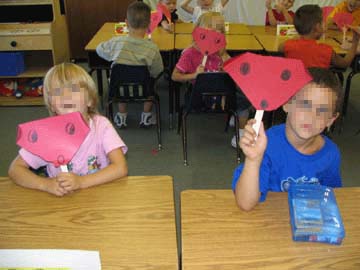 The Clifford puppets are made by rounding the edges of a red triangle, making a face and folding the ears over. Click here for other Clifford ideas.
After reading "The Little Mouse, the Red, Ripe Strawberry, and the Big Hungry Bear", we made strawberry hats and had a strawberry cookie.