Literature for the First Week (or Two!)
Chicka Chicka Boom Boom by Bill Martin, Jr. and John Archambault
The Kissing Hand by Audrey Penn
Miss Bindergarten Gets Ready For Kindergarten by Joseph Slate
The Kissing Hand by Audrey Penn
Will I Have A Friend? by Miriam Cohen
Look Out Kindergarten, Here I Come by Nancy Carlson
If You Take a Mouse to School by Laura Joffe Numeroff
Froggy Goes To School by Jonathan London
Chicka, Chicka, Boom, Boom by Bill Martin Jr.
Countdown to Kindergarten by Alison McGhee
Chrysanthemum by Kevin Henkes
"Magic" Playdough
We had "magic" playdoh waiting for us on the first day. It changed color from yellow to green.
Playdough Recipe
You will need:
1 cup salt
2 cups flour
2 tablespoons cream of tartar
2 tablespoons vegetable oil
2 cups water
food coloring
What to do:
Whisk together the dry ingredients in a saucepan. Add the "wet" ingredients. Cook over medium heat, stirring constantly until mixture forms into a ball (about 3-5 minutes). Remove from pan on to floured surface. Cool slightly. Then knead it until smooth. Store in ziplock bag or airtight container in the fridge.
How to add the "magic":
Form the playdough into ball shapes. Poke a hole in the ball and put 2 or 3 drops of food coloring in the hole. Form the playdough back into a ball again, covering the drops of food coloring.
Free PDF Printable:  Magic Playdough Poem
I'm not sure of the origin of this poem. You can print it out on sticker paper and adhere it to a ziplock sandwich bag.
1   2
How are you?
3   4
Come in the door.
5   6
A good-bye kiss.
7   8
School is great!
9   10
Let's begin!
This nametag is made by melting a solo cup in a 350 degree oven for 3-4 minutes. Place the cups on foil sprayed with Pam. Immediately after taking them out of the oven, pat them down to completely flatten them. I drilled holes later. The leaves are made of foam and were hot glued on to the apple.
The children enjoy having a visor the first day of school. This visor was purchased at a craft store and decorated by the student.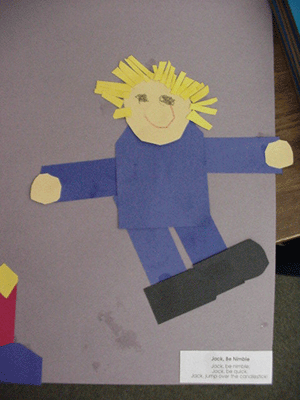 Review nursery rhymes the first few weeks of school and make these TLC art projects to go with the rhymes. Information can be found at their website.
Traffic safety is a good topic for the first week of school. We practice crossing the street at the crosswalk near the school, learn about traffic signs, and make a stoplight (another TLC Art project).
Every morning we begin the day by shaking hands while singing the song, "Hello, Neighbor"
Hello Neighbor, what do you say?
(bow to each other)
It's going to be a happy day.
(clap hands together)
So greet your neighbor,
(shake hands)
And boogie on down.
(wiggle their hips)
Give 'em a bump,
(do a fist bump)
and turn around.
We play a Fish Memory game to review colors. There are colored squares on the back of the fish.
We become familiar with the hands-on materials we'll use for math lessons during the school year.
We sort attribute blocks by color, shape and thickness.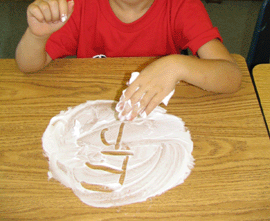 Writing in shaving cream is fun for the kids, cleans the desktops and gives the teacher an idea of the students' letter and number knowledge.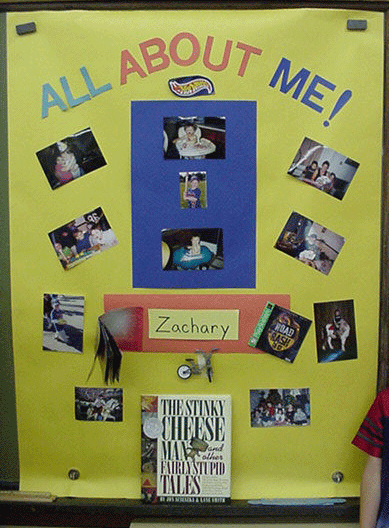 An All About Me bulletin board highlights one student a week. They are invited to share photos and some personal favorites to display.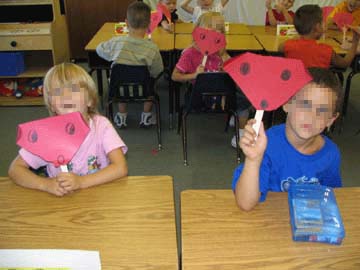 Make a Clifford stick puppet by rounding off the corners of a triangle, drawing eyes and a nose, and bending the top corners for ears.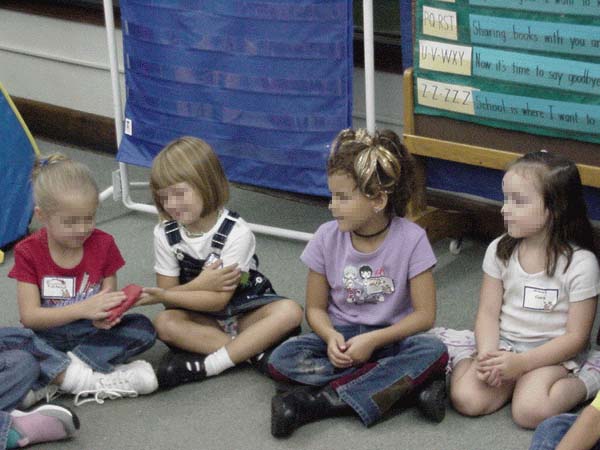 Play bean bag games, such as
Pass The Bean Bag
.

Play Color and Shape Bingo.
The bus pattern is a workmat from Box It or Bag It. The children are made from lima beans with hair drawn with a Sharpie to depict boys or girls.
Graphing: How did you get to school?
Printable:  How do you travel to school? Pocket Chart Graphing Printable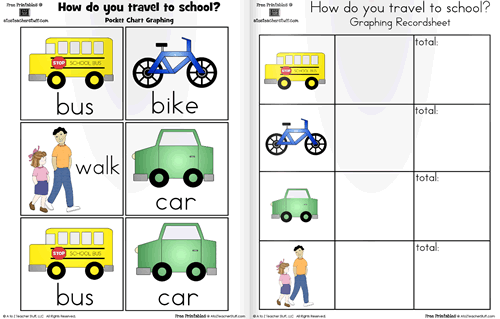 Make a class graph of how the children came to school the first day. Make graphics of a car, a child walking, and a bus. The children choose the graphic that depicts how they came to school, color it, and glue it on a class graph.
A class book could be made of this instead. The children could draw a picture of how they came to school and fill in a sentence at the bottom of the paper, "_____________ came to school today by ______________."