Art
Pumpkin Windsock
You will need 2 orange paper plates for each windsock. Draw a jack-o-lantern face on each plate. Glue about four yellow and black crepe paper strips to the back of one plate. Then glue the plates together back to back. Punch a hole and put a string in the top to hang. Add some green leaves and green curling ribbon at the top.
Jack-o-lantern Windsock
Use a black marker to draw a jack-o-lantern face on a 12" X 18" piece of orange construction paper. Fold into a cylinder and staple closed. Cut orange and black crepe paper into 16-inch length. Glue these in an AB pattern to the bottom of the windsock. Punch two holes at the top of the jack-o-lantern on each side. Put a reinforcement on each hole for extra strength. Tie a string between the holes to hang the windsock.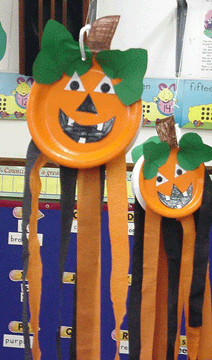 Pumpkin Person
Paint or color a paper plate orange and glue on a paper stem. Make a face on the plate. Accordion-fold four one-inch strips of paper and glue on the back for arms and legs.
Pumpkin Painting
All of these pumpkins are fingerpainted by combining yellow and red paint to make orange.  After this dries, trace a pumpkin shape and cut out. For the pumpkins on the left, traced leaves and stems were cut out and foam shapes were used for the eyes and nose. For the pumpkin on the right, trace the children's handprints (closed fingers) for leaves. Add a brown stem and green curling ribbon.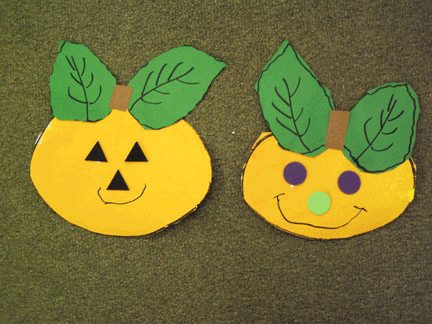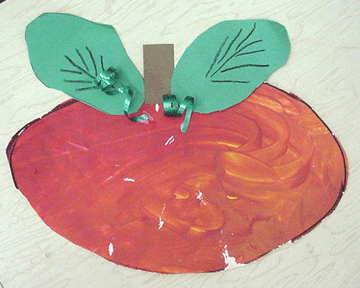 Pumpkin Stress Ball
Use a funnel to pour ¼ cup of cornstarch and 1 tablespoon of water into a small orange balloon. Release the trapped air before knotting the balloon. Tie a piece of green curling ribbon around the balloon to look like a vine.
Paper Bag Pumpkins
Paint a lunch bag orange and allow to dry. Stuff with newspaper and twist the top for the stem. Tie this off with a rubberband and tape the stem portion with masking tape. Use black markers to draw a face on the pumpkins.
Five Little Pumpkins
Glue 12-15 popsicle sticks vertically (and touching) to blue paper to make a gate. Give students five jack-o-lantern stickers (or have them draw them and cut them out) to sit on top of the popsicle stick gate. Use white, yellow, orange crayons to draw a moon and some witches in the air.
Recipes
Individual Pumpkins
(10 servings)
3 cups miniature marshmallows
¼ cup margaring
red and yellow food coloring
Apple Cinnamon Cheerios
Vegetable oil cooking spray (Pam)
10 green gumdrops
Warm the margarine and the marshmallows in a large pan over low heat until the marshmallows melt. Use the food coloring to tint the mixture orange. Gradually fold in the Apple Cinnamon Cheerios. Lightly coat each child's fingers with  the cooking spray. When the mixture has cooled sufficiently, give each child ½ cup of the mixture to form into a pumpkin shape. Press the green gumdrop into the top for a stem. Set on waxed paper until firm.
Orange Pumpkin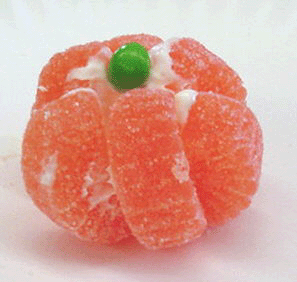 6 orange slices
vanilla frosting
one green M&M
Stick orange slices vertically into a "glob" of vanilla frosting. Top with the green M&M stem.
Pumpkin Muffins
2 cups flour
½ cup packed brown sugar
2  tsp. baking powder
2 eggs
¾ tsp. ground cinnamon
1 cup canned pumpkin
½ tsp. salt
½ tsp. ground ginger
¼ tsp. ground nutmeg
½ cup milk
¼ cup honey
1/3 cup margarine
1 cup golden raisins
Preheat oven to 375 degrees. Stir together flour, baking powder, cinnamon, salt, nutmeg, and ginger; set aside. Beat butter and sugar together in a large bowl. Add eggs, pumpkin, milk and honey. Beat until light and fluffy. Stir in dry ingredients until just combined. Stir in raisins. Pour into 12 muffin cups. Bake 25-30 minutes, until springy to the touch and brown on top.
Pumpkin Cookies
Preheat oven to 350 degrees. Grease cookie sheet.
Cream together ½ cup butter and ¾ cup honey.
Beat in 1 egg, 1 teaspoon vanilla and 1cup cooked pumpkin.
Stir together and add to the above mixture:
2 ½ cups flour
1 teaspoon baking powder
1 teaspoon baking soda
1teaspoon nutmeg
1 teaspoon cinnamon
Drop by teaspoonful onto a greased cookie sheet.
Bake for 15 minutes.
When the cookies come out of the oven, make faces on them with raisins.
Baked Pumpkin Seeds
Per cup of seeds:
1 tablespoon oil
1 teaspoon salt
Spread seeds onto oiled baking sheet and bake at 250 degrees until crisp (about 45 minutes.) Cool before eating.
Fried Pumpkin Seeds
2 cups dried pumpkin seeds
2 T. butter
salt
Melt butter in an electric skillet. Then add the seeds. Stir until brown. Salt if desired. Cool before serving.
Fried Pumpkin
1 pumpkin
Salt and pepper
Flour
Cooking oil
Slice a pumpkin into thin strips. Salt and pepper the strips and then dust them with flour. Fry, turning occasionally, until the strips are browned. Cool and serve.
Baked Pumpkin
One 3 pound pumpkin
Butter
Cinnamon
Preheat oven to 350 degrees. Cut the pumpkin shell in half (do not peel the rind). Cover the pumpkin halves with foil and bake for 1 ½ hours or until tender. Scoop out the inside of the pumpkin and mash the contents with butter and cinnamon. Cool and serve.
Pumpkin Snack
3 cups miniature marshmallows
¼ cup butter
yellow and red food coloring
½ tsp. vanilla extract
5 cups Cheerios
Melt marshmallows and butter over low heat. Remove from heat and use food coloring to tint the mixture orange. Add vanilla and gradually stir in Cheerios. Pour into a large, round, greased pizza pan and distribute evenly. When cool, used tube frosting to draw on a jack-o-lantern face.
Crustless Pumpkin Pie
¾ cup sugar
½ cup Bisquick
2 tablespoons margarine-30
1 can (13 oz.) evaporated milk
2 eggs
1 can pumpkin (2 cups)
2 ½ teaspoons pumpkin pie spice
2 tsp. vanilla
Mix all ingredients and beat until smooth. Pour the mixture into a greased pie tin. Bake at 350 degrees for 50-55 minutes OR pour the mixture into small muffin tins and bake for 25-30 minutes.
Pumpkin Treats
Put flat bottom ice cream cones in a muffin pan and fill halfway with cake batter. Bake according to cupcake directions on the box. Let chidren frost with orange frosting and decorate with chocolate chips for the eyes, a candy corn for the nose and a strip of red licorice for the mouth.
Pumpkin Pie Playdough
(NOT FOR EATING)
5 ½ cups flour
2 cups salt
8 teaspoons cream of tartar
¾ cup oil
1.12 ounce container of pumpkin pie spice
Orange food coloring (2 parts yellow, 1 part red)
4 cups water
Mix all of the ingredients together. Cook and stir over medium heat until all the lumps disappear. Knead the dough on a floured surface until it is smooth. Store in an airtight container.
Games
Jack-O Blackout
Program pumpkin shapes with 9 or 16 squares (like a bingo card.) Write letters, words or numbers that need reinforcement in the spaces. Vary the cards. Give black squares as markers. As the teacher calls out the letters, words or numbers, students cover the spaces on their pumpkins. The first one to "black out" all of the spaces is the winner.
Pumpkin Over and Under
Divide the class into two teams. Give the front child in the line a small pumpkin. The first child passes the pumpkin over his head to the child behind him. The second child passes it between his legs to the next child. The pumpkin continues to be passed over-under to the last child in line, who runs to the front of the line with the pumpkin. You can continue this sequence until every child has run to the front of the line with the pumpkin and the first child is back in front again.
Jack-o-Lantern
(like Old Maid)
Program pairs small die cut pumpkins with letters or numbers you want to reinforce. Draw a jack-o-lantern face on one pumpkin. Deal out the pumpkins to 2 or 3 players. They put down any pairs they may have. Then they take turns drawing a card from each other, trying to make pairs and avoid the jack-o-lantern. Play continues until one player lays down all his cards.
Jack-o-Lantern Relay Race
Divide class into teams of approximately six children. Draw a starting line on the floor and have the children facing the chalkboard (chalk on the tray). First team member goes to the board and draws a large circle, then runs back and hands the piece of chalk to the next person. Second member draws a stem. Third draws an eye. Fourth draws the other eye. Fifth draws a nose. Sixth draws a mouth. First team finished wins. (You may want to have the progression drawn on the board. You also may want to have some students go though the procedure for all to see.)
Pumpkin Bingo
Program pumpkin shapes with 9 or 16 squares. Write letters, words or numbers that need reinforcement in the spaces. Vary the cards. Use candy corn for markers.
Pass the Pumpkins
You will need two bean bag pumpkins. Form two circles. One leader in each circle holds a beanbag. On "Go," each begins passing the pumpkin around the circle. First circle to have the pumpkin back to the leader is the winner.
Hot Pumpkin
Play Hot Potato by passing a small pumpkin around a circle as seasonal music is played. When the music stops, the child holding the pumpkin is out.