Related Teaching Ideas Pages: Christmas Theme • Gingerbread Theme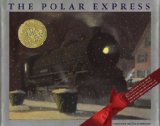 The Polar Express by Chris Van Allsburgh
Have a Polar Express Day in your class! The photos below depict some of the activities I've done with my class and information regarding the resources I used to make this an exciting day for the children. My students loved wearing pajamas to school!
Get the room ready by placing chairs in rows to simulate a train car.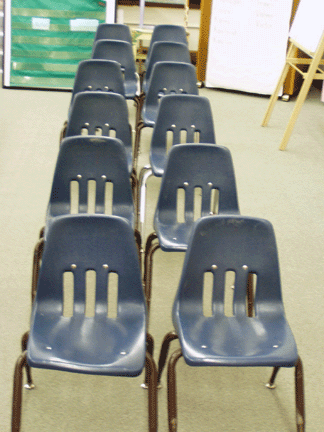 I taped a silver bell to the bottom of each chair. After reading the story to the children, I "accidentally" bumped into one of the chairs to make the bell ring. After investigating, they each found the bell under their seat.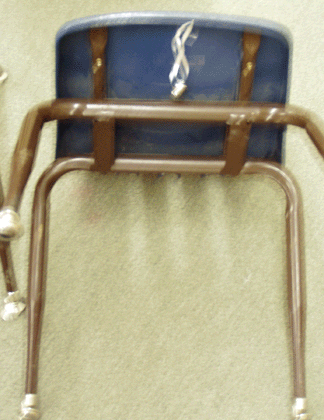 I handed these tickets (or boarding passes) to the children as they entered the classroom. Before they boarded the train, I blew a train whistle and called, "All Aboard". I used a Christmas tree hole punch at the bottom of the ticket as I collected them and they boarded our train. (I returned the tickets to them at the end of the day to keep as a souvenir.) Thanks to Colleen for allowing us to download the tickets from her site:
Polar Express Boarding Passes
And we're off! I dim the lights and read the book to the children. Watching the video (if you can find it) might be even more effective.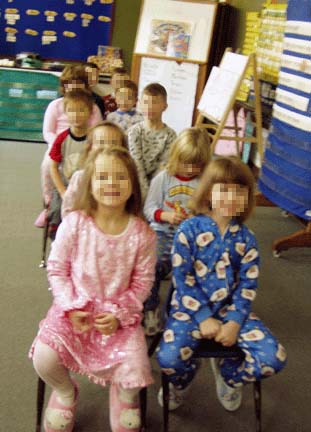 We found the bells under our seats!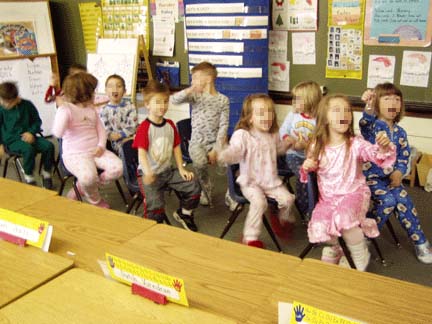 We had hot chocolate (with a candy cane for stirring) and a donut to warm up after the cold ride to the North Pole.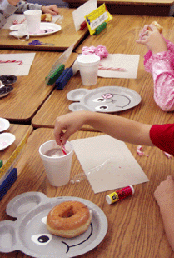 The teacher next door placed another bell in each child's locker while we were "riding" The Polar Express.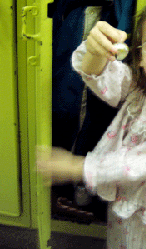 I also purchased jingle bell necklaces from Oriental Trading for a souvenir.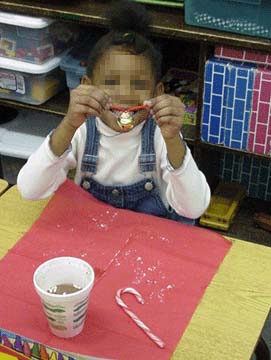 Mrs. McGowan's site has a Winter Train Ride booklet on her side that she uses as a response activity. You can view the pages her class made and download the book at the end.  This site is no longer on the web except at archive.org:  Mrs. McGowan's Train Ride – Printable Book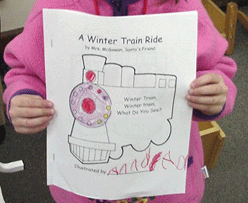 We sequenced these pictures from the book. I just made six boxes on a train template and the children glued them down. The pictures are from the Dec/Jan 2003-2004 issue of The Mailbox.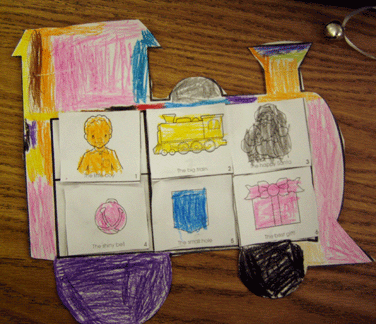 This art project was done in Ms. Hatherill's class. An outline of a train was traced with pencil on the construction paper. It was colored in with chalk and then the chalk was rubbed in one direction to look like the train was speeding and the snow was blowing past. Finally, snowflakes were made by dipping fingers and Q-tips in white tempera paint.