Instant Downloads @ A to Z's Store:
Fire Safety Math and Literacy Centers
By Kinderglynn
This is an amazing pack to use during the month of October. There are 102 pages and over 20 center ideas filled with both math and literacy centers.
We acted out "Stop, Drop and Roll" to put out fire on our clothing and learned the song below. We also practiced "Go low"–crawling under the smoke to breathe the "good" air.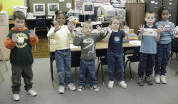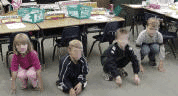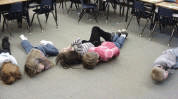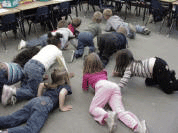 Stop, Drop and Roll
(tune of Frere Jacques)
If my clothes
Should catch on fire,
I'll stop, drop and roll,
Stop, drop and roll.
I'll put out the fire.
I'll put out the fire.
I won't burn.
I won't burn.
Fire Engine Snack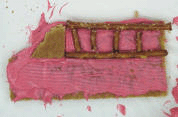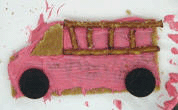 To make a fire engine snack, break off one corner of a graham cracker. Frost the cracker with red icing. Use the broken off piece for the windshield, mini oreos for wheels and pretzel sticks for a ladder.
Fire Safety Craft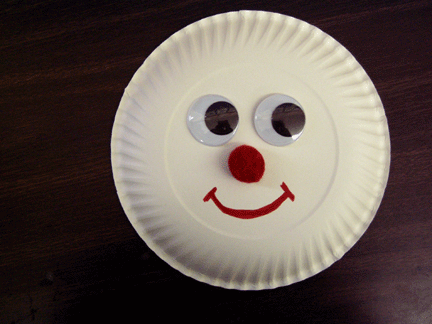 Use a white paper plate and add wiggly eyes, a nose, and a mouth. Pretend this is a smoke detector. Here is the poem that goes with it.  I printed it and glued it to the back side of the plate.
Always Alert
I'm a smoke detector and I say "Beep".
(squat down)
I'm your nose when you're asleep.
(point to nose then pretend to sleep)
If there's a fire and smoke is all around,
(wiggle hand and fingers around)
I'll wake you up with a very loud sound.
(jump up and raise your hands high)
BEEEEEEEEEEEEEEEEEEEEP!
Fire Station Field Trip Song
Sing this to the firemen during a visit.
Hello, Firefighters
(Sung to the tune of "Frere Jacques")
Firefighters, firefighters,
How are you? How are you?
Would you like to tell us,
Would you like to tell us,
What you do? What you do?
Fire Extinguisher Kit
Have the children bring any size metal can with a plastic lid to school and a box of baking soda or salt. Cover the cans with red construction paper, write FIRE! all over the red paper with a white crayon, and fill them with salt or baking soda.
Slip a note inside the can telling mom that because we have learned NOT to ever throw water on a grease fire (because that would make it bigger), we have made a safe fire extinguisher for the kitchen. Also add instructions that this can is for sitting close to the stove where kitchen fires are apt to begin.
Firefighter Tips
Dress each student in a fire hat and coat (borrowed or from the dress-up clothes) and take pictures of the children wearing them. Then each child tells a fire safety tip. Mount the tip on a paper with their picture and the title "Firefighter Josh says…"