The Kissing Hand BIG BOOK


Yes, you can now have this beloved book in the oversized big book edition!  The beautiful illustrations really pop off the pages. It's also a HARDCOVER so it will last for years. When you click through, make sure it is the big book edition (15″ x 20.5″) with ISBN: 978-1-933718-07-1, Hardcover, before ordering.
The Kissing Hand Puzzle
On the first day, read the book "The Kissing Hand" and stamp a handprint on a puzzle. Put a heart sticker in the center. Send home in a ziplock bag with the note shown below the puzzle. This makes a great first day keepsake. This idea came from Mrs. Bonthius, whose website is now offline but accessible via archive.org here.
Raccoon Paper Bag PuppetMake a raccoon  paper bag puppet. Idea and instructions found at Enchanted Learning.
You can also find some raccoon crafts and printables at First-School.
Go on a Chester Hunt!
The Chester Chase (similar to the Gingerbread Man chase) will familiarize students with the school rooms and personnel (library, cafeteria, office, etc.)
I gave each staff member we were going to visit a note to read and a heart sticker to put on the palm of their hand.
I taped this note in the back of The Kissing Hand book:
Dear Boys and Girls,

You've read my story, "The Kissing Hand".
Now I think we can have some fun.
Read the clues that I leave for you.
Try to follow each one!

Now let's play a game and look for me.
Here's the first clue to start!
Go visit Mrs. ____ in Room ____
And look on her hand for a heart!

Love,
Chester Raccoon
For the rest of the places we visited, I used this clue for the person to read, along with giving them a heart sticker for their hand.
Dear Boys and Girls,

I put a heart on Mrs. _____'s hand.
But there's someone else to see.
Go to the ______ and look for a heart.
Maybe you'll even find me.

Love,
Chester Raccoon
I had a helper put raccoon feet on the floor between the last stop and our classroom. The helper also put out hand-shaped cookies with a heart in the middle on the tables for when we returned. This is the note read by the person at the last place we visit.
Dear Boys and Girls,

I gave ______ a little heart for her hand.
Then I left on my own little feet.
Follow my paw prints through the hall.
They'll lead you to a treat.

Love,
Chester Raccoon
Finally, this note was posted in our room.
Dear Boys and Girls,

You had a good time looking for me,
But back to my book I went.
Read my story again on another day
And enjoy the cookies I sent!

Love,
Chester
The kids loved this activity!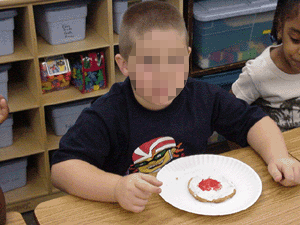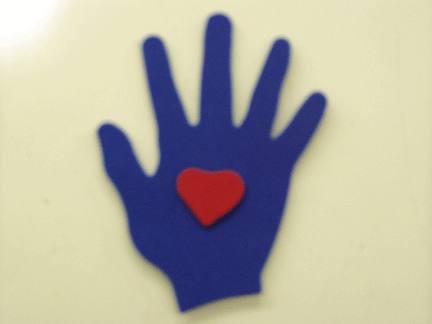 First Day Keepsake
Either trace the children's hands or use an Ellison punched handprint and glue a small heart in the middle. This one was made from craft foam, but construction paper would work as well. A magnet is attached to the back to make this a first day keepsake of our Kissing Hand Chester Chase.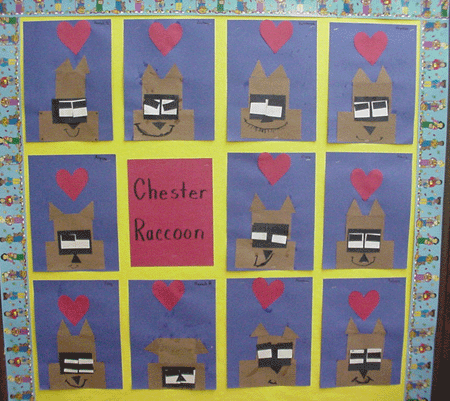 Raccoon Art
These raccoons are a TLC-type art activity. The pieces are precut and the students follow directions for placement and gluing. However, some of the sizes in their directions need to be adjusted. This idea came from The Learning Leap website, which is no longer online.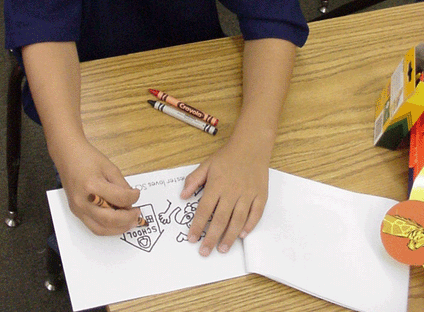 Chester Goes to School Printable Book
We make a printable "Chester Goes to School" book that was also from the Learning Leap website.  We have an archived copy of the book
here
.