Clifford ABC Chant
A B CDE
I can't find Clifford. Where can he be?
F G HIJ
Maybe the dog catcher took him away.
K L MNO
I wonder where Clifford might go.
P Q RST
Isn't there anyone who'll help me?
U V WXY
I think I'll sit down here and cry.
Z Z ZZZ
Look, he's sleeping under the tree!
Directions for a large Clifford using TLC Art-type techniques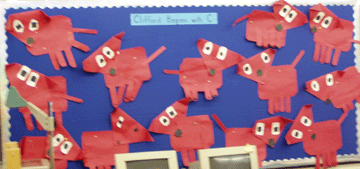 These directions are from Andrea Wall and a picture of these Cliffords can be seen on her website:
http://www.elkriver.k12.mn.us/rogers/AWall/Clifford/clifford.html
Body – 9 x 12 inch rectangle — trim corners off.
Legs – 1-1/2 x 6 inches — round one end, add paw marks. ((( )))
Tail – 1 x 8 inches — cut one end pointy, the other rounded
Head – 12 x 12 inch square — fold in half to form triangle. Fold two corners down for ears. Round ear ends.
Nose – 2 x 2 inch black square or other scrap piece — trim off corners.
Eyes – 2 x 3-1/2 inch white rectangle and 1 x 2 inch black rectangle –trim off corners.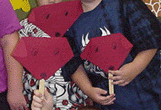 The Clifford puppets are made by rounding the edges of a red triangle, making a face and folding the ears over. A craft stick is taped to the back for a handle.
Clifford treat bag, clip art, crafts, puzzle, bookmark, greeting cards, maze, writing paper, games
http://www.dltk-teach.com/books/clifford/index.html